The music industry has always been ahead of the game. Musicians and bands regularly reinvent themselves; their image, their sound, their line up. Staying current has become more important then ever, in this era of TikTok, social media and instant news. And musicians have always been pretty good at reinvention and staying current- take Madonna, for example.
One of the great challenges of the pandemic was missing out on live events – especially live music. The loss of gigs, festivals and concerts was deeply felt and the pandemic had a huge impact on the music industry. But happily, VR came to the rescue! Musicians and artists began to see the possibilities of working with VR to stay ahead of the game, keep connecting with their fans despite restrictions and keep performing.
Take Dutch rock band Within Temptation who were due to headline the O2 in London when the pandemic struck. The date got postponed more than once because of limitations of social distancing and travel limitations. So, they had to change their tune. So they decided to take the gig virtual.
A German company, NOYS, had been developing a VR platform for both artists and fans, prior to the pandemic. The company delivers their concerts online via a web browser and through virtual reality headsets. Band leader Sharon Aden said "while not being able to play live, this is the first thing that comes close, to that actually, for us without performing on a real-life stage." NOYS approached Within Temptation to let them know that they might have a workable fix to the band's problem. The band quickly realised that working with VR there were no limits to the experience that they wanted to create. They filmed with a green screen behind them, and then were free to concentrate on performing.
MelodyVR, who launched in 2018, have been building up a library of live shows, specifically for streaming through an Oculus VR headset. The longer term plan is for all of these shows to be available through an app. MelodyVR say they have already worked with a whopping 850 artists, including Lewis Capaldi and Kelly Clarkson.
What is so exciting about the VR development is that it's changing how we view live music. Now of course, we're not suggesting that virtually attending a gig could replace this particular real life experience – but wait until you hear this. As well as attending a VR gig from a position in the audience, there's also the potential to view a gig from other perspectives – from backstage, from the sound booth or even on stage with the band! We think that's an awesome alternative to attending a gig in real life.
The company have been creating VR cameras that won't get in the way of performances, and that can withstand the various elements of a live show: fireworks, musicians jumping around near the cameras and champagne spray to name a few!
And there's the example of ABBA Voyage where Virtual avatars provide a ground-breaking, live music experience.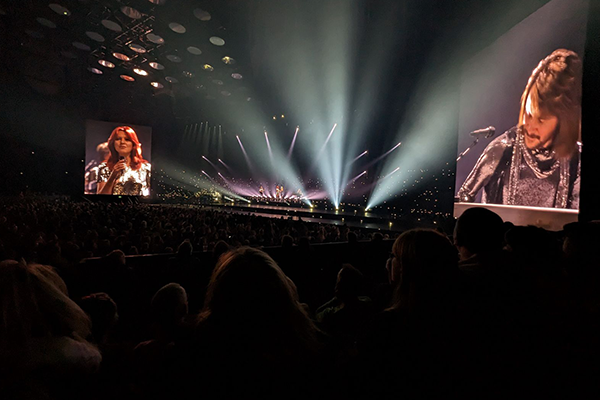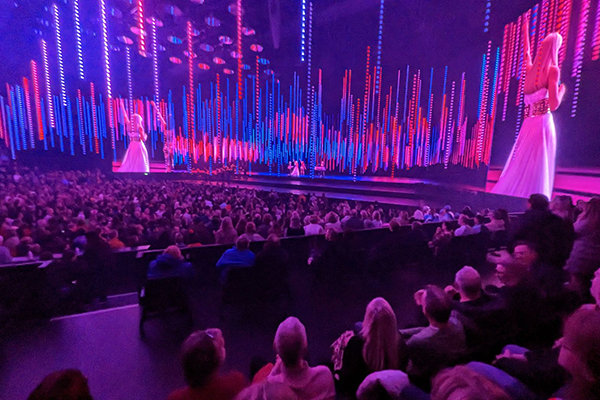 Latest developments in sound
That's the latest developments in VR within the music industry. But how can you make attending a VR gig even better from your end?
Invest in your tech. There are lots of exciting products on the market at the moment. Here's a couple that have particularly attracted our interest, is Syng Cell Alpha. Syng Cell Alpha is a serious upgrade for those of us who were excited by 'surround sound' back in the 90's!  Do you remember the 5 speaker set up involving electricians, speakers in every corner and under the sofa in the living room? Syng Cell Alpha is a 3 speaker set up that will make you feel surrounded by sound. It's small but powerful, with Triphonic sound which uses immersive rendering to create a revolutionary sound that its creators say is indistinguishable from reality. Imagine attending a VR gig with this trio of speakers helping out. It would be amazing!
Or you could try out High Fidelity. High Fidelity deal in spatial audio. They add immersive, high quality audio to any application. If you're still feeling none the wiser, then think on this. Conventional audio that you get through any device (tv, phone, computer) is mono, which means you hear all sound from a single direction. Spatial audio delivers sound so that you hear sounds coming from different locations- exactly like you do in the real world. It means that each sound is clearer and easier for listeners to understand. These latest developments in sound technology could add a whole other dimension to attending a VR gig at home.
Can VR globalise music?
Whilst a music lover will understandably probably never willingly pass up the chance to attend an event in real life! It's undeniable that VR creates some game changing opportunities for live music. There are many reasons why it's not always possible to attend a gig in person. Factors like geographical considerations, cost, physical restrictions, dislike of crowds -there are a lot of limiting factors to physically attending an event. If VR technology is something that can make live music accessible to more people, we think that's fantastic.
If both artists and fans can see the opportunity and the advantages of using this technology, then perhaps VR can truly globalise music. What do you think? Is attending a gig by VR a step too far? Or do you love the idea? We'd love to know.
---
At Circus we are award winning creators of virtual brand experiences. We work with brands around the world to design and make virtual experiences for their customers and staff. Specialising in virtual tours, virtual training, virtual tourism, virtual events, virtual learning, virtual open days, virtual recruitment and virtual sales tools. Find out more about our services.